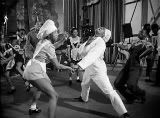 I've never understood why runners keep running until they wear out their knees. Or why dancers will dance until they have blisters on their feet.
Maybe it's good that I get too tired to run that far or dance that long. In spite of this blessing in disguise, I started getting knee pain from weightlifting. Since I didn't get knee pain during weightlifting sessions, it took me awhile to figure out what was causing it. Once I realized it was squats, I stopped doing them and felt better. However, my weightlifting routines became limited to what my joints, not my muscles, would bear, particularly for my lower body.
On the recommendation of a few bloggers I read (Dr. Michael Eades and Tom Naughton--see blog roll), I tried Slow Burn by Fred Hahn and Drs. Michael and Mary Dan Eades. The Drs. Eades explain in the beginning of the book why strength training is good for you (improved metabolism, stronger bones, more flexibility, less back pain and better athletic performance, among other things). From my own experience, I know that it improves athletic performance: once I started weightlifting several years ago, I was able to dance the way I wanted to, and an isometric neck exercise really helped my neck pain. However, I didn't see any difference in flexibility, and I still had occasional shoulder pain. As for stronger bones, as a small, white, thin-boned female, I hope they're right.
The workout itself involves slow, grueling movements with heavy weights or the weight of your own body. Think pushups that last 20 seconds each--and no propping yourself up on your arms. The sets are brief, though: just 90 seconds, it only feels longer. The goal is muscle failure: to do the exercise until you can no longer move the weight. As smart weightlifters say, muscle building happens fast or not at all. It's only been in the past few workouts that I've discovered the correct weights for this--and started feeling like I worked out.
So far, this has worked well for my upper body, but I'd probably have to go to a gym to use machines and larger weights to get the most benefit for my lower body. For example, the squats described in the book are difficult, but even going all the way down, I don't have muscle failure. (I do
lindy
, and I don't know of anything better to strengthen your quadriceps.) I don't even bother with the heel raises, since I could do them all day. The recommended crunches don't work for me (I'm short-waisted) so I do Navy Seal flutter kicks with my head off the floor instead. If a 118-pound woman can't get lower-body muscle failure with home equipment, I imagine that big, strong women and most men would have to use a gym to make this work.
The Slow Burn system requires a few pieces of equipment: a yoga mat, a towel, weights, a metronome and a timer. I downloaded a free timer from
cnet.com
and found a free online metronome at
metronomeonline.com
.
Did I mention this is a quick workout? It really does last only about 30 minutes per week. (Originally, I wrote that this is a once-a-week workout, but Fred Hahn has informed me that it's better to do it twice a week, or once a week if you are a very athletic person. See comments.)